Uriah DeCarlo
Licensed Real Estate Salesperson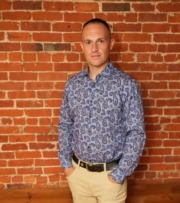 Uriah DeCarlo, full-time human, friend, husband, dad, and problem solver. Need a purple tufted Chesterfield sofa taken out of a second story window to make a closing happen? I'll make it happen.
Utilizing my extensive background of retail store ownership, property management, property and casualty insurance and the persistent belief that I can accomplish anything, to make sure a successful relationship occurs with my real-estate clients. 
Bring me your real-estate goals and I'll bring you solutions, cheers!